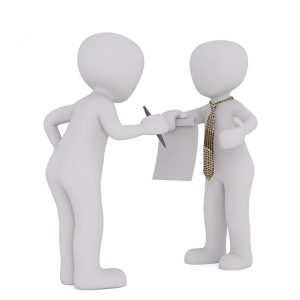 I remember those words like it was yesterday. Actually it was several years ago but they really caught me off guard. I was working with a senior account manager at one of our large facilities. What he lacked in experience he made up for with enthusiasm and was teachable.
He was the kind of person that cheerfully filled in for absent team members whenever needed. One day during a snow storm he showed up early and was brushing off cars for the office workers! He was well liked by most everyone.
That particular day, we had done a walk through of the entire complex. This was a very large facility and took us a few hours to cover it all. When we were done the report was good and I was very pleased.
There were a few things that I wanted to improve on, and when I brought them up, that's when he dropped those words. "That's not in the contract boss."  I almost fell off my chair! Who was he to tell me what was in the contract? After all, I was the one who wrote it! I decided that this would be a good time to talk about the 'goodwill' account.
I explained that it's important to always do more than you're asked in life, especially in the service business. I compared it to a checking account, each time we did something extra, a bit of 'goodwill' was added to the account. Unfortunately when we make a mistake, some of it gets withdrawn. The idea is to add to it everyday with little things that hopefully people will notice.
It took him a few minutes to figure it out, but eventually he got it. The next week I was walking in the factory part of the facility. The floor manager came up and thanked my for washing the office glass partitions. They were normally done by the window cleaning service but for some reason it hadn't been done in a while. I knew nothing about it. Turns out it was my manager. He took it upon himself to get it done, needless to say I was thrilled!
Of course there is a line to be drawn and we can't go crazy with this concept. Whenever possible we will accommodate our commercial cleaning clients with small extra requests at no charge. We value each relationship and wish to protect it long term.