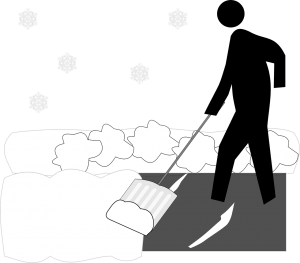 It would seem like winter is in full swing. I have been providing cleaning services in Albany since 2000, I have seen my share of winter weather! Every year, the salt and ice melt causes unique challenges for cleaning services and facility managers.
It's a delicate balance as well. From a liability standpoint, building owners want to do everything possible to avoid slip/fall accidents. It seems that over the past few years people are applying more salt and ice melt to prevent accidents.
From a cleaning perspective it's more work to clean up the mess from what gets tracked in and the residue it leaves behind. Is there anything you can do?
Tips For Dealing With Salt & Ice Melt
Be sure to have extra walk off mats at each entrance. Make sure they are dry each day and changed often.
Make sure your cleaning service is using a cleaning solution to break down the residue. Normal mopping will not cut it.
Increase the cleaning schedule during the winter months to include extra visits for entrance areas.
For larger facilities, use air movers to keep entrance areas dry during wet slushy days.
The salt, residue, mud and slush that gets tracked in a building is unsightly and can be dangerous as well. Be sure to have a conversation with your cleaning service about their plan for the winter months.
Salt and ice melt is known to eat away at floor finish. It's common to let it go and wait for spring (90 days as of the writing of this post) but not always the best idea. Your cleaning service should be able to perform a light scrub and re-coat of high traffic areas that have floor finish on them. A full strip wax is not normally required.
Same thing with carpet cleaning. Consider having the main areas extracted and a full cleaning in the spring.
We would like to wish you a happy holiday season and hope that in 2017 we are able to serve your company.